TSRgrow TOTALgrow Solution™ is an intelligent growth management platform engineered to maximize productivity and reduce costs in the indoor, vertical and commercial greenhouse cultivation environments.
TOTALgrow™ Solution takes a holistic approach to plant growth optimization, equipping farmers with a seamless turnkey solution for managing everything in the growing environment to achieve maximum growth at the lowest operational cost.
The components of the platform include:
Advanced LED lighting with full plant spectrum for full integration capabilities
TGHV remote power servers with built in power monitoring and lighting control software
GROWHub environmental monitoring software integration with monitoring and data analytics
Facility design and analysis services - from MEP to HVAC TSRgrow offers full service consulting for a TOTALgrow Solution
Energy Savings Through Lighting
TSRgrow boasts industry-leading full plant-spectrum LED lighting for commercial controlled environment agriculture. The LED fixtures utilize remote ballasts and thus run much cooler and last longer.
The pioneer lighting platform achieves more than significant energy-efficiency compared to conventional grow lights. The lighting system can be customized based on the grow environment—including indoors, vertical and greenhouse—for greater precision and productivity.
Up to 3.0 μmol/J efficiency
Remote power supply
Less heat, more light
Full-spectrum
Full monitoring with on-of dimming
Remote Power Servers – Significant Cost Savings
TOTALgrow™ Solution delivers responsive power management through distributed lighting and off-board ballasts.
The system is fully integrated and engineered for improved agility in lighting control and heat reduction in the growing environment.
Remote power servers simplify the installation (or uninstallation) of lighting fixtures. Individual power modules can be dimmed or turned on and off based on cultivation needs in different grow zones to save energy and optimize growth.
Significantly more efficient for higher crop yields
Ballasts located outside grow rooms
Less heat, more light, lower cooling costs
East installation and maintenance,
Scalable and supports zone splitting
Software Control for Lighting
Advanced controls onboard the TOTALgrow Solution make it easy to achieve optimal lighting for photosynthesis and energy conservation. The system comes integrated with the GROWHub™ Software, an automation platform for monitoring, analyzing, and controlling lighting and other growth factors.
Control compatible light fixtures
Calendar-based scheduling
Data logging and analysis
Integration with CO2, air circulation, and nutrient systems
Environmental Monitoring
TOTALgrow Solution combines advanced sensors and wireless communication, making it possible to gather and track meaningful grow data.
The environmental monitoring capabilities enable cultivators to control dew point, temperature, water, nutrients, CO2, and other growth parameters with the touch of a button. Everything syncs to GROWHub™ on phones, tablets, and desktop computers.
Environmental statistics for all zones in one interface.
Real-time data with capabilities for analysis
Monitoring plants with real-time photo updates
Notification bar for alerts
Control and Data
Current models of grow environments limit crop variety and scalability. The TSRgrow solution enables the cultivation of various crops with guaranteed precision in lighting and environmental control for each zone. Controls can be accessed on-site or remotely with mobile and tablets for accelerated productivity.
The platform's sensors produce vast amounts of data for accurate decision-making. The solution introduces the advantage of big data and analytics in farming environments where revenue and profitability goals can be tied to individual growth parameters.
HVAC Integration
From nutrients to fertigation, HVAC to humidity control, and more, we have the resources to take care of all your needs. TOTALgrow Solution is designed to continuously monitor nutrient levels and plant tissue health so cultivators can fine-tune dosages right down to micro-doses for accelerated uptake.
The data-driven process reduces the risk of over fertilization and nutrient deficiency. Reports and actionable fertigation insights—flow rates, PH values, and nutrient levels are accessible on the app.
Proven Experience
We have been in the business for over 12 years with a reputation for excellence and quality growth solutions and services. Our A-team of experts can help you in grow room design, system design, and floor plan analyses to optimize your working and growing spaces. Fixtures are designed and installed for accessibility, safety, and control.
TSRgrow consultants can take you every step of the way from the construction of grow facilities to accessorizing redesigning for reuse in other ways, including vertical racking, greenhouses, and indoor grow areas. The experts eventually conclude by adding state-of-the-art LED lighting, software, and monitoring solutions.
True Growth Partner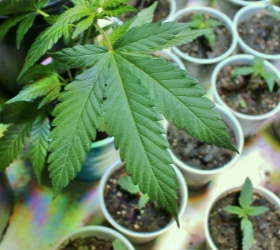 Our industry-leading experts are available any day to help growers build their facility and maximize value from their installations.
We have proven expertise in helping farmers get energy rebates, discounts and incentives. Let's help you maximize the cost efficiency and sustainability of your facility.
We also want everyone to be able to benefit from our industry-leading solutions. That is why we are so proud to provide financing options to help you get a competitive edge with our products.
TOTALgrow Solution delivers unmatched results to growers while reducing operating costs and optimizing resource utilization. Contact TSRgrow today to see how the TOTALgrow Solution can help with your cultivation facility.