Indoor commercial cannabis cultivation looks a lot different than it did a decade ago. Today, cultivation facilities are fully integrated, data-driven, and precisely controlled. There is no greater example of this evolution than the rise of LED lighting for cannabis cultivation.
Yet, all too often, lighting still takes a back seat to other systems during the design phase of new cultivation projects. Despite its integral role within the indoor environment and impact on other facility systems, many projects put final lighting decisions off until well after construction gets underway.
Lighting should not be viewed as a commodity. Increasingly, lighting systems are driving advanced cultivation techniques. We argue that if the lighting is treated like an afterthought and not integrated into the design right from the start, there will be real repercussions to the operational success of the facility.
A Bright Idea: Lighting-First Facility Design
Far too often, lighting is thought of last during the facility design phase, and not considered critical to integrate into the building systems. Architects and engineers and the customer typically think about automation and integration of other environmental systems, like HVAC and fertigation, but place less emphasis on how lighting plays into the facility as a whole.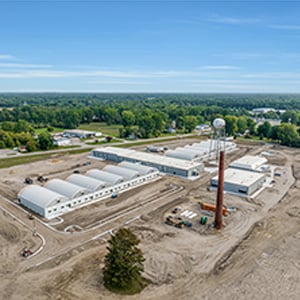 Online discourse could convince you otherwise, but the decisions around lighting infrastructure don't boil down to solely a choice between LED lighting vs. traditional HIDs. Advanced LED Lighting is not just a light bulb — it drives cultivation methodology.
Advanced LED Lighting should be one of the first systems considered during the design phase. Not only is lighting the primary factor driving plant growth (and ultimately revenues), but it is a fundamental component for environmental control and system integration.
Lighting choice impacts more than just the HVAC or electrical systems. Have you considered how it will integrate into the rest of the facility? For example, does it allow for granular control and data collection? Is it fully controllable and infinitely adjustable, enhancing crop steering and strain-specific cultivation recipe development?
Again, lighting isn't just about selecting a fixture. If you're striving to design an efficient cultivation facility, the right lighting has to be built into the early design process to reduce lighting installation cost, optimize HVACD sizing, allow high efficiency design of the electrical infrastructure and control each strain to its best yield and finally minimize maintenance disruptions .
Infrastructure Efficiencies With Advanced Lighting Solutions
By this point, the industry is aware of the efficiencies and energy savings offered by LED lighting once cultivation begins. But, the efficiencies start well before the plants enter into the equation. There are real benefits to thinking about Advanced LED lighting, especially advanced solutions, during the facility build-out.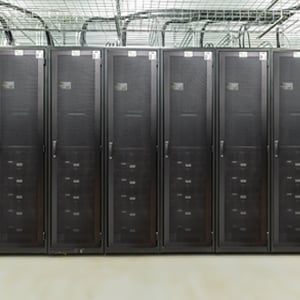 Advanced LED Lighting influences HVAC system selection and design. Choosing Advanced LED technology over the more traditional LED and HID translates into lower heat emissions in the grow room and lower energy load on the HVAC system. Remember that LED fixtures still emit heat, but it is considerably less intense than within an HID facility.
Designed for commercial cultivation, TSRgrow's Advanced LED Lighting completely removes the ballast from the fixture by centralizing lighting power in the facility, and lowering heat emissions even further. All TSRgrow lights are powered by TGHV remote power servers, which are located outside of the grow room, typically in corridors or in server/power rooms up to 500 feet away from the grow room.
TSRgrow's solution also means lower installation costs. TSRgrow Advanced LED lighting is designed to be powered and controlled directly from the TGHV remote power servers. This integration allows for full monitoring and control without the need for individual dimming wires strung between every fixture. Furthermore, no contactors or relays are required in the facility to ensure lights go off, offering significant savings on electrical equipment and installation costs
Operational Efficiencies With Advanced LED Lighting Solutions
An efficient cultivation facility is an integrated one. Each system, whether it's HVAC, environment and dehumidification, irrigation, or lighting, should not be disparate - rather they should be considered as a part of a greater whole.
This is why the design process should never be about buying components or subsystems in isolation. Instead, take a step back to think about how each subsystem works together with the others to create the most cohesive facility.
Although most cultivation facilities operate with the same basic systems, there are countless possible manufacturers, features, and configurations. As a result, not all subsystems and components will operate and communicate seamlessly in the way you may have envisioned.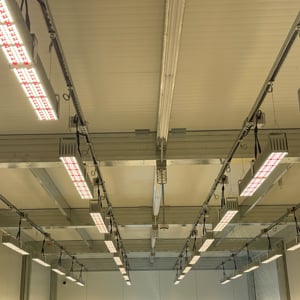 Some of the greatest ongoing operational efficiencies come from harmonizing all subsystems and components communicating to one another. First and foremost, system integration reduces labor costs associated with environmental elements and data management. Secondly, it also improves control over the growing environment to produce healthier, more consistent harvests at the lowest cost. Thirdly, you will be in the best position to adapt to on-coming regulations and cGMP (Current Good Manufacturing Practices) for competitive advantages and necessary oversight.
Advanced LED lighting solutions are a core element within this integrated system. As stated earlier, lighting is never just about light bulbs. Advanced LED lighting technologies, like the TOTALgrow Solution developed by TSRgrow, completely connect into the grow room and building management systems for a data-driven grow environment.
Advanced LED Lighting systems that facilitate detailed grow room data, help ensure that growers can precisely replicate successful harvests and also continue to optimize the conditions and inputs of less successful ones, allowing cultivators to create strain-specific grow recipes and incorporate crop steering via lighting techniques into their cultivation plan. Consistency demands data and controllability, and that's only possible with TSRgrow's Advanced LED lighting.
TSRgrow's TOTALgrow Solution integrates Advanced LED lighting, remote power servers, environmental monitoring, crop steering by lighting, production management, and analytics into one comprehensive system. It's a system that fully integrates into the larger facility design to provide seamless communication between technologies.
Advanced LED Lighting a Key Driver of Facility Design
It's time to start thinking about lighting in facility design as much more than a choice between HID and LED options. Advanced LED Lighting is a key driver for plant growth and facility efficiency, installation cost savings, and should be a prime consideration during the design phase.
Facility design is about so much more than the sum of its parts. Each subsystem has to communicate with the others, seamlessly integrate into a building management solution, and create a controlled, data-driven environment.
Not every cannabis consultant, design firm, or architect will have the experience to bring it all together. Therefore, finding the right partners during the design phase is critical to capturing these facility efficiencies and ensuring Advanced LED lighting remains at the center of the process.
TSRgrow works alongside architects and consultants to design efficient cultivation facilities. We'd love to help you get started.